Children's Resources
Check out our online resource for kids, Tumblebooks! These interactive ebooks for kids promote literacy, language skills, and are just downright fun! Check out the puzzles, games, interactive books, and more!
For more reading and literacy fun, be sure to also explore BookFlix!
The new POWER Kids webpage is available and it features kid-centered e-resources, Chat with a librarian, Books, movies, and more, and PA Photos and Documents. It's all of the main POWER Library services in a single, attractive interface designed just for kids.
Please check out this online handbook for special needs parenting!
NASA's Space Place educates and entertains kids, parents, and teachers about space and Earth science and technology.
NASA's Climate Kids website brings climate science to life with fun games, interactive features and exciting articles.
SciJinks.gov is weather and Earth science made fun for middle school kids. It has games, activities, videos, and "Now I get it" articles.
Click here for a great resource on special education. There are solutions for birth to two years and pre-k to 12. The site is great for parents as well as teachers and other educators.

Cruise Into Kindergarten
Cruise Into Kindergarten is an online board game made to introduce your and your preschool child to engaging online resources to strengthen early literacy, math, and science skills.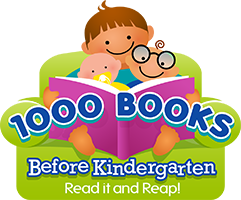 1000 Books Before Kindergarten
1000 Books before Kindergarten is exactly what it sounds like. Use this to challenge you and your toddler to read 100 books before kindergarten.
DK Find Out
Click here to go to DKfindout.com, a website designed to inform, enrich and entertain readers of all ages.
Early Learning GPS is a site to help guide parents in their quest to help their child to learn and grow. Follow your child's milestones, save activities to build your child's skills, and compare child care/early learning programs!
This is a site dedicated to giving children unconditional access to online books of different topics at no cost.
This searchable database provides information about books that are supported by Scholastic Reading Counts! quizzes. This easy-to-use database helps teachers, students, and parents locate the right title to read next. Search by title, author, grade level, Lexile® measure and other criteria and find information about titles that included annotated descriptions and key book metrics. Book Expert online is an open resource can be enjoyed by everyone!
For any youth services questions, contact our Youth Programming and Outreach Librarian, Laura Sarge, at lsarge@centrecountylibrary.org